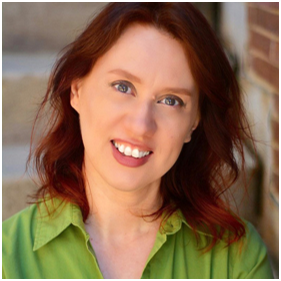 THE HEADMISTRESS' Valerie Meachum is equally at home in new plays on Chicago storefront stages, musicals and classics in the burbs, and the vibrant independent film scene of "Hollywood Midwest." She has recently gained notice as Donna, the zombie sitcom mom of the web series THE DEADERSONS. Horror audiences have also seen her in CYRUS: MIND OF A SERIAL KILLER, RAYMOND DID IT, EPITAPH: BREAD AND SALT, and the award-winning short WITCHFINDER.
Highlights of her theatre career include Lady Macbeth, Prospera in THE TEMPEST, Charlotte Lucas in PRIDE AND PREJUDICE (but no zombies!), and the world premiere of Darren Callahan's HORROR ACADEMY with Babe With Blades.
She has written and is working on producing an evening-length solo theatre piece about Pre-Raphaelite model/artist/poet Elizabeth Siddal. Also a highly accomplished costumer, she often puts her combined skills to good use by bringing beloved heroines to life for children at hospitals and charity events.
Oh, and Valerie Meachum is celebrating a birthday today! Please join everyone at THE HEADMISTRESS in wishing Valerie a happy birthday!