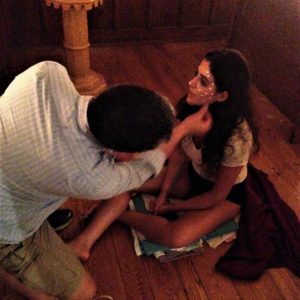 For Immediate Release
August 12, 2020
THE HEADMISTRESS Adds Digital VFX Team
GRID Studio & Artist Stacey Palmer on Board to Develop VFX

Madison, WI  – Three Tortured Minds, the producers of the upcoming supernatural horror-thriller THE HEADMISTRESS, announced their digital VFX team today, including GRID studio—the Belgium-based VFX company behind CULT OF CHUCKY—and U.S.-based VFX artist Stacey Palmer.
"We are thrilled to have assembled such an outstanding visual effects team, including Stacey Palmer and the team over at GRID studio," said the film's producers, Glenn Chung, Christopher A. Micklos, and Jay Sapiro. "Their combined talent, experience, and creativity will bring a whole new dimension to the film and really help us realize our vision for THE HEADMISTRESS."
Belgium-based GRID studio offers 25 years of experience in the creation of content & image, both in animation and VFX. Their horror filmography includes the VFX work on films like Brian Yuzna's AMPHIBIOUS (aka AMPHIBIOUS CREATURES OF THE DEEP), DEAD AGAIN IN TOMBSTONE, CULT OF CHUCKY, and more.
Stacey Palmer started her career as a Digital FX artist in 2006. She has worked on music videos, commercials, and short and feature length films, including SURVIVOR TYPE, ATTACK OF THE MORNINGSIDE MONSTER, HAVEN'S END, AND LILIES ARE RED.
In THE HEADMISTRESS, a debt-ridden young teacher inherits an abandoned lakefront inn; and when she takes a group of potential buyers to visit the property, they discover a dark, sinister secret…as well as a malignant supernatural presence determined to keep them there forever. The film was shot on location at an abandoned nunnery in southern Wisconsin.
THE HEADMISTRESS is the second feature from Three Tortured Minds. Their award-winning first film, 2018's THE NURSERY, was released by Uncork'd Entertainment and is widely available on DVD, cable- and satellite-on-demand, and on multiple digital streaming services, including Tubi, iTunes, Vudu, Amazon Prime, and many more. Reviewers called THE NURSERY "chilling", "awesome", "creepy as hell", "a real surprise", and "one of the best horror films to come out of 2018"!
#   #   #
More photos related to this news release available below.
ABOVE: Star Ayden Skye poses after being prepped for a VFX shot on location filming THE HEADMISTRESS.
ABOVE: Belgium-based GRID studio did all the VFX work for the 2017 film CULT OF CHUCKY.
ABOVE: VFX artist Stacey Palmer has joined the digital VFX team for THE HEADMISTRESS.