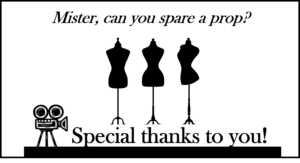 Ever want to see your name in a movie's credits?
The producers of THE HEADMISTRESS are currently in search of several props for use during production of the film! If you are able to donate or let us borrow any of the following props / set dressings, it will earn you a coveted "Special Thanks" notice in the film's end credits, as well as lots of love love on social media!
We're currently looking for:
– old sewing mannequins
– old sheets to cover furniture
– candles (lots and lots!)…can be previously burned, as long as they have some life left!
– old blankets
– "Bridge Out" sign and/or a saw horse / road barriers
We'll be shooting THE HEADMISTRESS in mid-September in Oconomowoc, WI.
If anyone can help us with any of these props / set decorations, please contact Chris at chris@visuality.com.
We'll be updating this list as we go, so check back when you can!