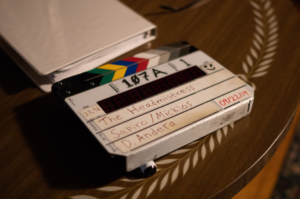 Above: THE HEADMISTRESS shot on location in Oconomowoc, Wisconsin, for eleven (11) days from September 14 through September 24, 2019.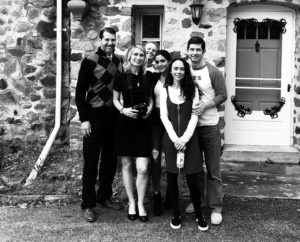 Above: Cast of THE HEADMISTRESS pose on location at an abandoned nunnery in southern Wisconsin: (left-right) Thomas J. McCarthy, DeChantel Kosmatka, Hunter O'Harrow, Ayden Skye, Katherine Bellantone, Tom Dacey Carr.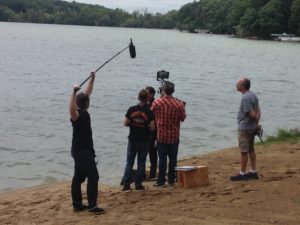 Above: Cast & crew of THE HEADMISTRESS shoot a scene on the shore of Upper Nemahbin Lake in Wisconsin.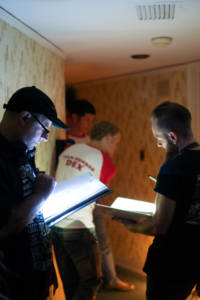 Above: Co-directors Christopher A. Micklos (far left) and Jay Sapiro (far right) scan the script of THE HEADMISTRESS while stars Tom Dacey Carr (center left) and Hunter O'Harrow (center right) prepare for a scene.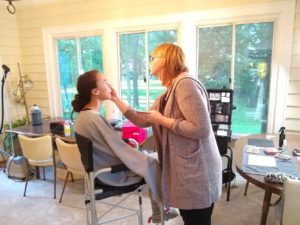 Above: Hair & makeup artist Jenni Schenk (right) works on star Katherine Bellantone (left) as the start of a day of shooting on THE HEADMISTRESS.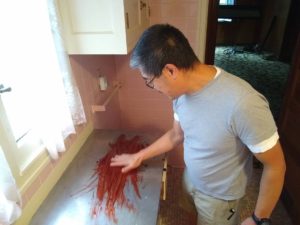 Above: Executive Producer Glenn Chung smears blood around the set in preparation for a key discovery in the film.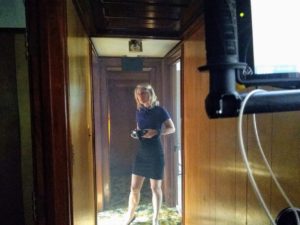 Above: Star DeChantel Kosmatka films a scene as Nikki, just as she begins to suspect that something may be amiss at the abandoned inn.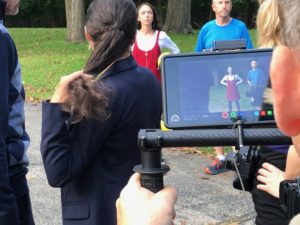 Above: Cast & crew of THE HEADMISTRESS block a scene in preparation for cameras to roll.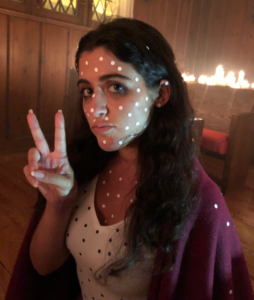 Above: Star Ayden Skye is covered with high-contrast FX markers in preparation for shooting a digital effects shot for THE HEADMISTRESS.